Weddings
I've been thinking a lot about weddings, as mine is just a few weeks away, so I thought I would document some other Seattle family weddings.  All have ties to St. Mark's Cathedral where Bob and I will be married.
My Great Grandparents (George Meade Emory & Josephine Sloan DeWolfe) were married in Seattle in 1895.  As the newspaper article indicates, although they were married at the bride's home, the officiant was from St. Mark's.
"The consumation of good taste was shown in the quiet, but refined, tone which characterized the arrangements for the marriage of Mr. George Meade Emory and Miss Josephine DeWolfe. The marriage took place at the home of the bride's parents, Mr. and Mrs. Frederick S. DeWolfe, on the southwest corner of Depot and Third Streets, on Wednesday evening at 9 o'clock. Only a few friends and relatives were present, among the latter being Judge S. DeWolfe and Miss DeWolfe, of Montana. The ceremony was performed by Rev. David Claiborne Garrett, rector of St. Mark's parish, in accordance with the impressive ritual of the Protestant Episcopal church. Mr. and Mrs. Emory went for a quiet wedding journey to Victoria and thence to Banff, whence they return this week. They will be at home to their friends within a few days at 214 Banner Street, their new home."
My Grandparents (Frederick DeWolfe Emory & Marion Frances Burton) were married in Seattle in December, 1926.  They were married at Trinity Episcopal Church, which is the "mother" church to St.Mark's.
My parents (George Meade Emory and Deborah Ann Carley) were married at in the Thomsen Chapel of St. Mark's Cathedral in 1959.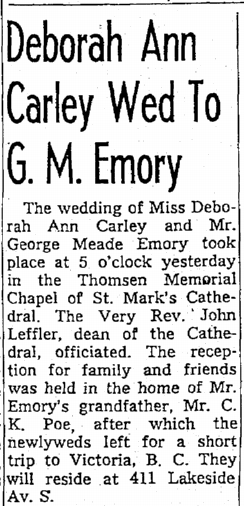 My sister was married at St. Mark's in 1997, and someday my nieces may carry on the tradition.
My wedding will also be in Thomsen Chapel of St. Mark's Cathedral, and will be the 4th generation in the family to be married in Seattle.   Unlike generations past, neither the event (nor my dress) will be mentioned in the local newspaper.   Like these other weddings, it will be a day spent with family and friends, and blessed with love and joy.
Please follow and like us: